2023 Scholarship Program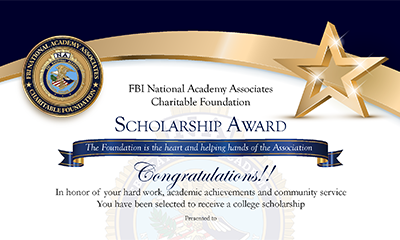 The FBINAA Charitable Foundation annually offers 18 scholarships of $1,000 each to selected high school seniors for post-secondary education at an accredited College or University. This year we are offering an additional scholarship, the Ed Fuller Achievement Award, which will be awarded to the highest scoring applicant. Scholarship applications must be submitted electronically between March 1 and March 31, 2023. Four scholarships will be awarded to each of the four FBINAA Sections, and two to the Society of Former Special Agents of the FBI (SFSAFBI).
The intent of this program is to:
Support and encourage youth development through continuing education at an accredited College or University
Promote community involvement
Encourage demonstrated leadership
Encourage active membership in the FBI National Academy Associates
To be eligible applicant must be:
The child, step-child, or grandchild of an active member of the FBINAA or Society of Former Special Agents of the FBI.
A high school senior planning to attend an undergraduate program at an accredited institution of higher learning.
Students wishing to be considered must hit the apply below tab. Completed applications and academic transcripts are to be submitted electronically.
Only applications submitted electronically between March 1 and March 31, 2023 will be accepted. Incomplete or late applications will not be considered. All applicants will be notified of application results. Any questions should be directed to FBINAA Charitable Foundation Board Member, John LeLacheur at jlelacheur@fbinaafoundation.org or 978-578-9516.
Gather your information before you Apply:
The application has three parts, Part One is applicant's personal and academic information, Part Two is the applicant's extracurricular activities, and Part Three is the sponsor information.
In order to successfully complete this application you will need the following:
Yearbook/Headshot photo that is 2"X3" and smaller than 5MB
Copy of your unofficial high school transcript saved in a PDF format that is smaller than 10MB
Letter of Interest saved as a Word Document or PDF that is smaller than 10MB
Information on your extracurricular activities including school related activities/organizations, Honor Society memberships, academic achievements/awards, civic and community activities, and any leadership positions you have held
Information on your Sponsor

If FBINAA Member Sponsor, you will need NA Session (if applicable), Chapter Membership, FBINAA National or Chapter Events attended, National or Chapter board positions held, National or Chapter committees, and FBINAA Foundation Board or Committee participation.
If Society of Former Special Agents of the FBI no additional information is needed
If you do not have all the above information, please gather the information before proceeding as you will be unable to submit your application without all necessary information and documents. Once you have gathered all the information please complete the application, upload appropriate documents, and submit electronically.
Congratulations to the 2022 College Scholarship Recipients:
Grace Abel Section 1
Brolin Cox Section 1
Nathanial Darlin Section 2
Hailey DeGuelle Section 2
Blake Gardiner Section 1
Shane Hagerman SFSASBI
Lacey Hamblin Section 2
Christina Hupp Section 3
Milan Jones,Jr. Section 3
Isabella Martin Section 3
Madison Messenger SFSAFBI
Nicole Moran Section 3
Luke Othic Section 2
Anthony Raganella, Jr. Section 4
Mason Reed Section 3
Connor Rotolo Section 4
John Stravalle Section 4
Katelyn Sung Section 1
Eamon Youngs Section 4
Scholarship Donors
An individual, FBINAA Chapter, or business who made an annual donation of $1000 or more in support of our scholarship program.